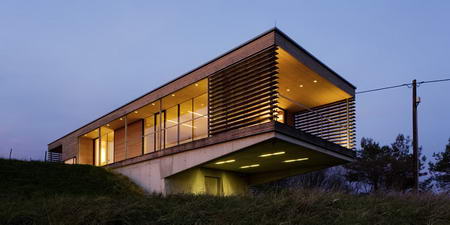 Simple and yet astonishing, Maaars' Schnitzer – Bruch house from Austria made is the perfect example of nature bonding habitat.
Wood, wood everywhere, from inside to outside (and back), you'd think that everything is just a big suspended block of wood with large windows on a concrete base. The Austrian Schnitzer-Bruch house is a family home built on one of the highest platforms of the region.
It may look unitary but this house is created from two buildings . The main one is the elongated main building where few of the house's vital functions were installed (cooking, living, sleeping, bathrooms) and additionally a guestroom. All on a concrete base that includes storage. Then there's the office, in a separated building on solid foundations.
The construction of the wooden structure took 9 days to complete. The exterior is weather proofed with nano-technology (the wood surfaces in the nano treated area prevent water and fungus deterioration). The impressively large windows were executed without visible frame. There are also revolving doors that can be fixed in open position if desired (especially for summertime). (via)
Leave a Reply