Expansions, reconstructions and renovations are particularly challenging and thus, interesting for they represent a special approach and a different implementation of the architectural / design project.
Consequently, this Henry House expansion signed by the notorious Feldman Architecture firm presents an undeniable attraction. A small attic within an old Arts & Crafts home has been tweaked into a master bedroom suite and home office.
As the inhabitant / client is a landscape designer, the natural light and the connection with the outside were of capital importance. Skylights and windows were added and the attic walls were extended while the pitch roof was flattened. The limited headroom under the existent house's steep roof was thus considerably enlarged.
The heavy wood beams were replaced by exposed thin steel tie – rods, sacrificing in part the original rustic look of the attic but creating a significantly open volume with cleaner lines.
The small roof deck was constructed with planters containing bamboo on the sides; glass rails were added to offer a better view of the city below. The expansion looks perfectly integrated and ideally adapted to the needs and the demands of the client / inhabitant.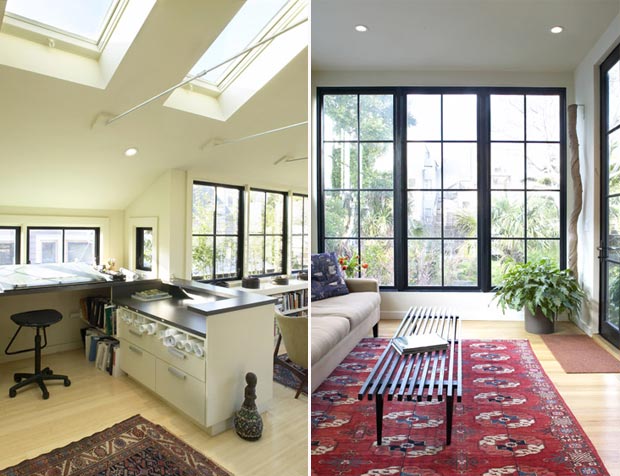 Leave a Reply